Earth Portal: It's our world, but it's their heaven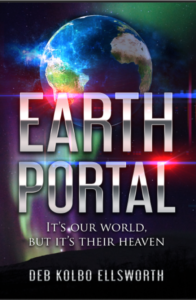 The Earth: it's our world, but it's their heaven. And only one man can save it for all of us.
James Thompson is an ordinary guy. He teaches science at the same high school he graduated from. He married his college sweetheart; they have a daughter and a son. His best friend, Danny Friedman, moved in next door when he was in elementary school, and they share a couple of beers every Friday at the local tavern. And then, everything changes when aliens contact James to tell him that the Earth is a Portal to heaven through which these aliens pass, riding on the Life Force which flows from the abundant life on our planet. But, to James's great distress, they reveal that one evil alien is about to unleash total destruction on the Earth and that James is the one who will stop it. Despite his strong desire to deny this bizarre event, to go back to his rational, ordinary life, James must deal with this truth that cannot be denied.
James gradually builds a relationship with the ethereal aliens and understands more about the "Seekers", as he calls them.The story involves current issues, particularly race relations since James is an African-American man in an increasingly racially-polarized country. There is adventure, humor and twists and turns!
You can get this book on Amazon, in either paperback or Kindle version. I would also be happy to give you an autographed copy for just $10! Use the comments section to let me know!